Demolitions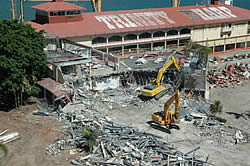 No job is too large for our experienced demolitions team who specialise in the safe, timely and tidy removal of commercial and domestic structures throughout North Queensland.
Diverse recent demolition projects have ranged from multi-storey commercial buildings to a $1.2 million project at Cairns' Trinity Wharf, to smaller projects such as vegetation removal.
You can rest assured that with Down To Earth Demolitions, your building will be demolished according to the highest safety requirements and legislation. Most importantly, you will get the outcome you have paid for: a safe and tidy structure-free site.
Call or email for information or a quotation.